Ask and you shall receive.
This one's for Kim.
#2: Claudia and the Phantom Phone Calls (1986)
"Today, for instance, I'm wearing purple pants that stop just below my knees and are held up with suspenders, white tights with clocks on them, a purple plaid shirt with a matching hat, my high-top sneakers, and lobster earrings."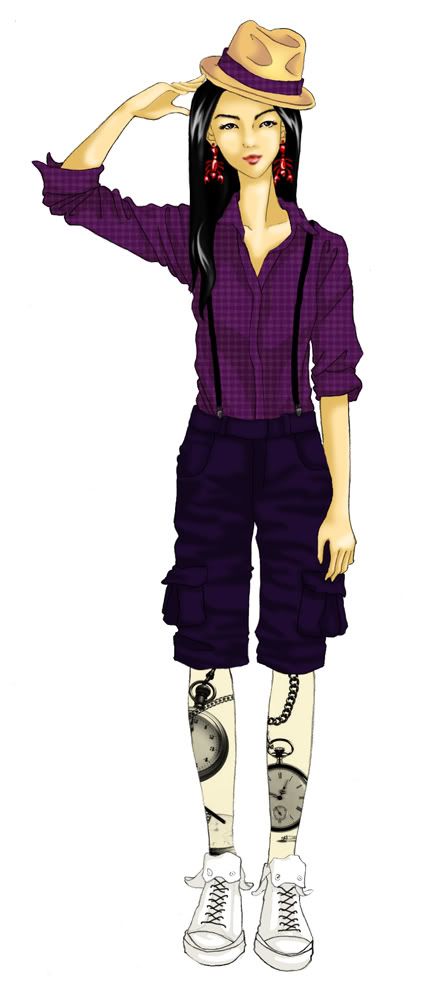 She looks Huck Finn shoved into a Salvador Dali painting, promoting Karmaloop.com. I actually had to restrain myself from slapping a pair of high heeled thigh-high boots just to make up for the inherent stumpification, but I'm staying true to the descriptions.
In hindsight, I kind of wish I made Claud's Converse X-Hi's in black instead of all white, but I had my hands full with all the purple, color wasn't really registering properly in my brain. In some other context, I'd definitely be down with some Clock Tights... probably not the lobster earrings, tho.

In efforts to help me complete my list of Claudia's outfits, I'm going to start taking requests.
Leave the book number, title, and outfit description in the comments, and I will (eventually) get to it.
BTW I'm going overseas next week (hello, 15 hour plane ride), but I have a couple Claud outfits already ready for the coming posts, so fear not and expect more oversized shirts and leggings.