Whoops ~ sorry, folks but it looks like yours truly suffered massive blogging-setbacks due to the cold/flu season. I've been sniffling up tissue-mountains ever since I returned from beautiful, mild & warm Taichung. I've a puny immune system to start out with, so combined with the temperature/climate change and jetlag, the cold totally kicked my ass :(
But enough woe-is-me's. I haven't been up for editing any of my Claudia scans since I can barely stay awake for more than 3 hours on end, but I'm slowly and surely working at it. For now, here's an oldie but a goodie.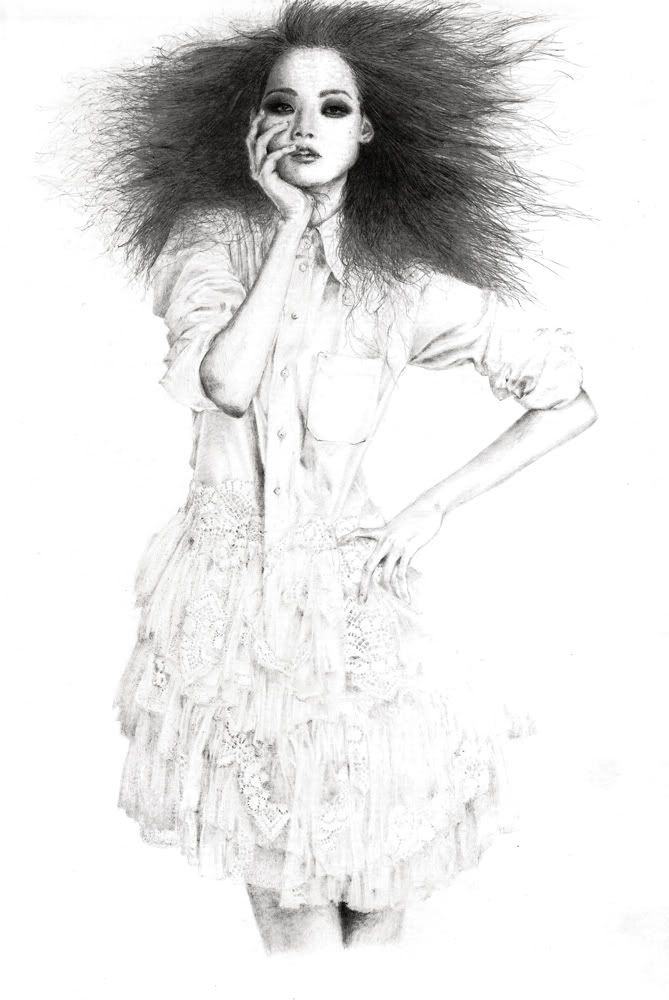 This is from a look from the Barney's New York catalog in 2008, and I drew the illustration about a year ago. The dress is by Jean Paul Gautier... I have this masochistic tendency to LOVE illustrating prints/lace/textures, but this was too intense and I half-assed it towards the end (heh). The scan came out kind of funky, but I blame my lack of photo editing skills on the meds. Maybe someday (when I'm not dripping boogers everywhere) I'll post the high quality version of the sketch.
Pass the tissues, please T-T