Before I decided to study fashion, I wanted to be a mangaka (comic book artist - yes, I am a huge geek), and I guess here is a good place as any to uncover my deep, dark not-so-secret:
I
LOATHE
the
Raina Telemeiger BSC graphic novels
.
There. I said it.
Yes, I know I should shut my trap because Telemeiger is apparently an award winning artist, but I don't care. Claudia with hot pink bangs? She's a 3rd generation Japanese-American artsy-fartsy teen from a upper-middle class Connecticut suburb, not some Got-Rice AzN chick of
The Fast and the Furious
persuasion.
Plus, the characters are drawn as if their bodies are shaped after potatoes,
SO SUCK ON THIS, TELEMEIGER
:
Mystery #6: The Mystery at Claudia's House
"...as soon as I looked in my closet that morning, I knew I wanted to wear this pair of black-and-white-checked stretch pants I just bought. I grabbed them and pulled them on. Next I started to look around for my red belt, since it would look perfect with the black and white....
...I remembered that fashion magazines always say to be bold and mix your patterns. That's what I'd do! I checked the closet again and found a black shirt with white polka dots. I held it up and looked in the mirror. The dots next to the checks made me a little dizzy, but I decided that the total effect was just what I had been looking for. I pulled on my red ankle boots, put my hair into a ponytail on the side of my head (fastened with a black-and-white barrette), stuck on my favorite red heart-shaped earrings, and I was ready to go."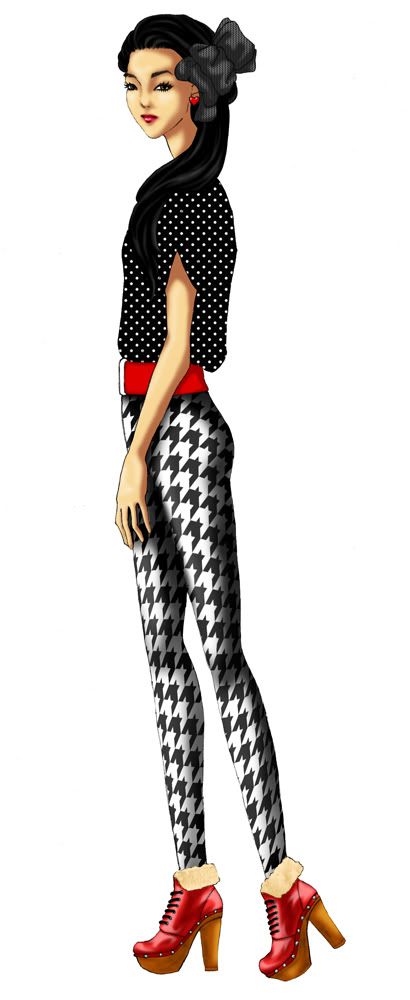 Black Milk Houndstooth Leggings
//
AA Wide Clasp Elastic Belt
//
Joie French Dot Silk Top
//

Jeffrey Campbell Denmark Boots
//
Eugenia Kim Herringbone Kelly Ruffled Barrette
[/rant]
ANYWAYS.
I really want these booties in black, along with about a dozen other Jeffrey Campbell shoes (mostly more Lita Boots) for Christmas. I know I'm slapping high heels on Claudia every chance I get, but what can I say? I love sky-scraping platforms ^_^
Still taking requests. If you want to see a particular outfit illustrated, leave the book number & description in the comments [/shameless comment mongering]