5 days until Christmas! All I wanted?
1)
Colin Morgan
2) JC Taupe Litas
3) JC Charli Cs
4) New Laptop
5) Morinaga Caramel Candy (20 pack)
Lucky for all of you, I already have three of the five listed items, so all you guys have to do is send me Colin Morgan holding a box of Japanese candy tied up with a festive Christmas ribbon.
Not possible? Ah, well...
Doesn't hurt to ask, and anyways, 'tis the season of giving [a Dawn outfit for
Poire Gourmande
] so here's my gift to all of you :)
#50: Dawn's Big Date
"She helped me put together a great outfit, which was what I was wearing as we waited for Lewis.
... black ballet slippers; black lace capri leggings; a
short metallic silver skirt
with all this crinoliny stuff underneath that made it poof out; a stretchy, tight, black-and-white-striped top with long sleeves. I'd bought six rubber bangle bracelets, and a new pair of
feather earrings
that reached down to my shoulder. (I wore both earrings in the two holes in my right ear. I put a pair of small black hoops in the two holes on the left.) This time I didn't set my hair; I piled it on top of my head, then made six braids."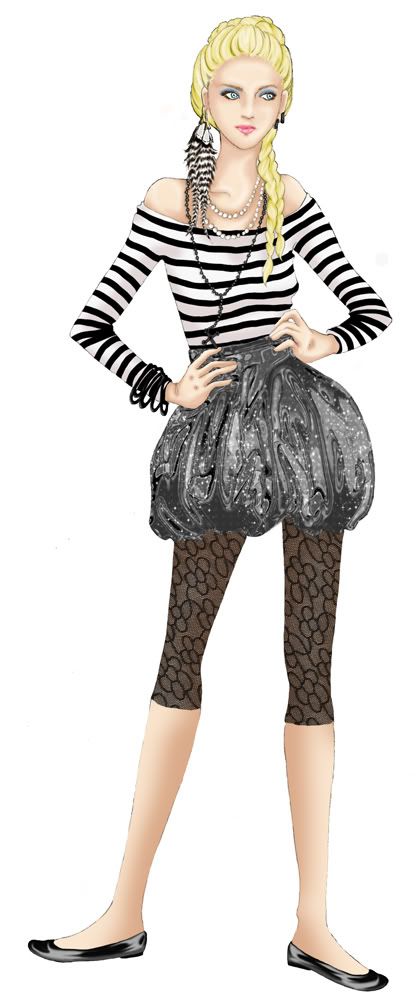 1) This outfit makes me want to_________.
A) cringe
B) laugh
C) burst into "Like a Virgin"
D) all of the above
I took many inspirations for this outfit:
Robin Sparkles
,
80's Madonna
and
Veronica Mars as 80's Madonna
Images via HIMYM @ CBS / Madonna Infinity / TV Cappers Anonymous
I'm not really sure who I had in mind when I pictured Dawn's face (Blake Lively, maybe?), but she turned out a lot more Stacey/Taylor Momsen than intended... Their faces were interchangeable as a child.
Oops (but not really).