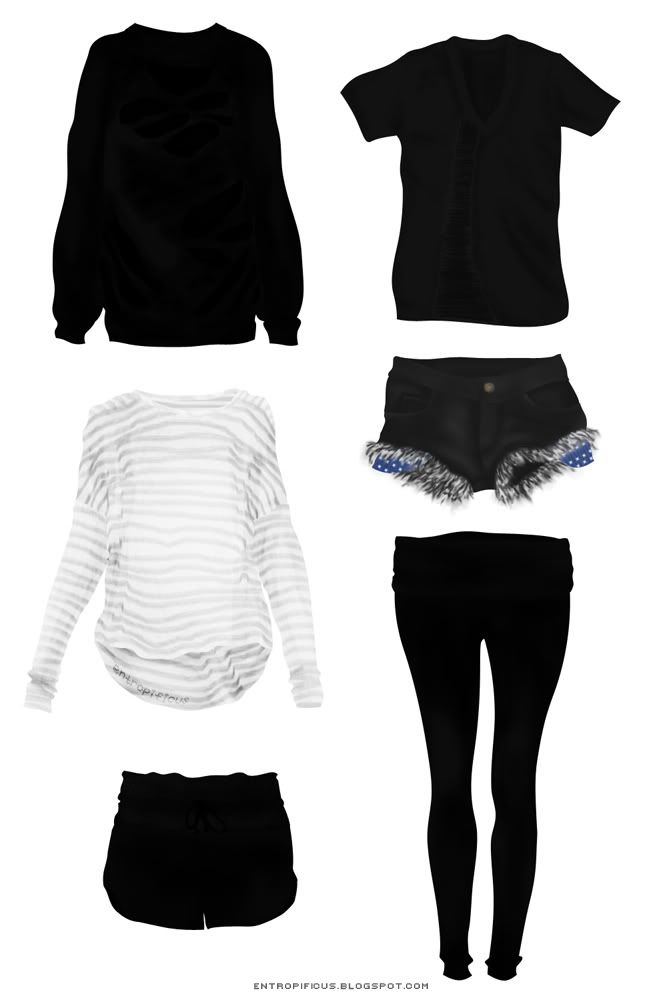 1 - Slashed Sweatshirt by BACK by Ann Sofie Back ; 2 - DIY shredded American Apparel Deep V Neck Tee ; 3 - Striped Long Sleeved Tee by wilfred ; 4 - DIY destroyed Diesel denim shorts ; 5 - Silk & Jersey Tap Shorts by wilfred ; 6 - Foldover Black leggings from eBay
I recently stumbled upon drifter regalia's post dissecting Real vs Ideal Wardrobe Staples. Something of a derivative of the Six Items or Less fashion challenge (one month of only six clothing articles --not including undies, accessories, shoes & outerwear), she describes the dissatisfaction of being steered towards universally accepted fashion staples (ie pencil skirt, skinny jeans, etc.) only to find them incompatible to her own taste and comfort.
As someone who can relate to finding must-have items as less-than-stellar, I immediately combed through my own closet to identify my own six wardrobe staples... this resulted in mostly of basic, distressed black things.
I wonder if I should be concerned that I chose a pair of destroyed denim over a sensible blazer (oops). Methinks maybe my New Years resolution should be to find more age appropriate clothes (but not really).