Glee Season 1 x 11, Hairography:
Finn: I'm gonna say this as nice as i can, but you look like a sad clown hooker.
Sometimes I don't know why I illustrate the things I do(truth).
So maybe explanations are in order... Let's start with our most favorite/despised misguided diva in her disastrous attempt to seduce her high school crush. Insert sexy black AA Disco Pants, loads of hairspray and red lipstick: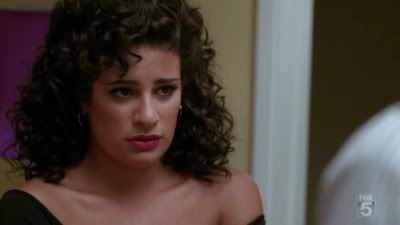 One thing we learned from Glee is to love/hate
Mash-Ups
. I know I can't possibly be the only person in the world to make a stink-face when Rachel Berry popped out of her washroom in a Grease catsuit, but did anyone else remember the scene from "She's All That" when Lainey gets her revenge on clown loving, rich art-bitch Misty via drunken makeover?

Sad clown hooker, indeed.